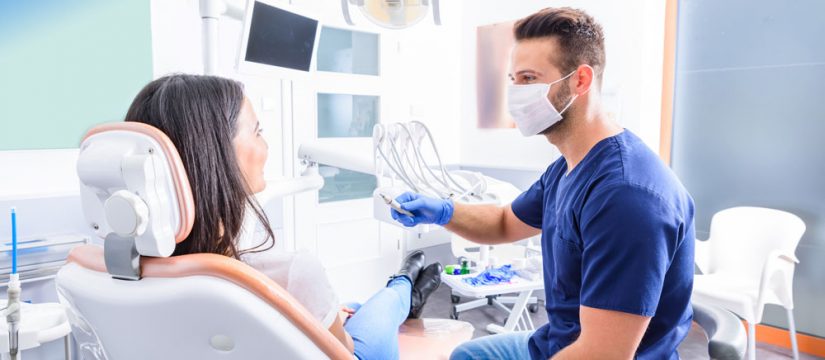 For many people, the health care provider they visit most often is their general dentist. This is because general dentistry is geared towards disease prevention. More than 60% of dental procedures are diagnostic or preventive. If oral diseases are not treated in time, major problems can result, such as dental infections, orofacial abscesses and pain, which translates to a greater expenditure of time and money for the patient.

In a routine Dental Prophylaxis visit at the Champsaur Dental Clinic, you will undergo a complete examination of your mouth (teeth, gums, tongue, cheeks), a professional cleaning and, if necessary, you will undergo X-rays to rule out tooth decay or other oral pathologies.

In general, you should visit your dentist at the Champsaur Dental Clinic every four to six months, for preventive services and whenever you have a concern about your oral health, but there may be individual circumstances for a different preventive treatment program.

General Dentist Panama

What do general dentists in Panama do?

Clinica Dental Champsaur general dentists provide a wide range of services, which are vital to your oral health, including:

Preventive dental services in Panama
The most important thing for us is to maintain good oral health, by stopping the disease before it takes over your mouth. Regular exams and professional dental cleanings are vital to preventing dental problems. Your general dentist at Clínica Dental Champsaur will also give you detailed instructions to improve your oral hygiene at home.

Restorative dental services in Panama
When a problem is found, your dentist at Clínica Dental Champsaur will be able to give you the appropriate and timely treatment. The most common dental restoration involves removing cavities and placing a filling on the affected tooth.

Champsaur Dental Clinic also treats dental trauma such as broken, loose or fallen teeth. They can diagnose and treat the causes of dental pain or periodontal (gum) disease.

We also offer treatments for missing teeth, perform crowns and bridges, and help you fit in fixed and removable dentures (dentures) and provide more advanced treatments such as root canal therapy, orthodontics, and dental implants.

Cosmetic dental procedures in Panama

At Clínica Dental Champsaur we can help you get the bright smile you've always wanted with a variety of cosmetic procedures, including teeth whitening, resin fillings (white caps), and porcelain veneers. If it's a brighter smile you're looking for, ask us about smile design.

People of all ages can safely receive a cosmetic treatment from Clínica Dental Champsaur.

Also, if you suffer from extreme anxiety, your dental procedures can be performed under sedation with an anesthesiologist, that way, you will be very calm, during the extraction of your wisdom teeth, the performance of restorations or any other dental procedure.

General health concerns in Panama
In many respects, your oral health is a mirror of your overall health. Some dental problems can reflect problems in other parts of your body and vice versa.

For example, untreated oral infections can lead to poorer diabetes control, a higher incidence of cardiovascular disease, and complications during pregnancy. The general dentists at Clínica Dental Champsaur are trained to identify these and other problems and offer appropriate treatment or referral when necessary.

Other treatments related to General Dentist Panama

General dentist procedures
The general dentists at Clínica Dental Champsaur are trained to perform over a hundred different dental procedures. Categories include:

• Exams (initial, emergency, periodic, periodontal, oral cancer)
• Digital radiographs
• Dental photographs
• Digital scans
• Odontograms
• Resin Restorations or Fillings (White Shims)
• Porcelain dental bridges and veneers
• Gingivectomy
• Porcelain crowns and bridges
• Dental Extractions
• Bone grafts
• Orthodontics with Invisalign brand aligners
• Teeth whitening
• Pit sealants
• Partial and Total Removable Prosthesis
• Endodontics (root canal)
• Scaling and Root Smoothing
• Restorations in temporary teeth

Indirect or direct restoration
During routine dental exams, your dentist at Champsaur Dental Clinic looks for cavities and signs of oral disease. If you test positive for cavities, they will recommend a direct or indirect restoration.

Direct restorations are repairs performed inside the mouth (eg, cavity fillings). These restorations are done in a single appointment.

Clínica Dental Champsaur also offers indirect restorative procedures, with materials manufactured in our laboratory, using digital impressions of the patient's teeth, although the manufacturing process requires more time and allows a better final result, since the adaptation and shape of the restoration , they are done by computer.

The first step is to prepare the teeth by removing cavities and preparing them for indirect restoration. A digital impression is then made, using an intraoral scanner, the restoration is digitally designed and fabricated in our laboratory. In many cases, only one appointment is required, for the entire process.
Do you need an appointment for a General Dentist Panama? Apply online.