Our dentists specialize in general dentistry in Panama for the prevention, diagnosis, and treatment of a variety of dental conditions. This may include routine dental exams, such as cleanings, or something more complex like a root canal. Whether we're treating your cavity or fixing a damaged tooth, Our dentists use the newest technology, technique, and continuing education to make every visit more comfortable for you, with long-lasting results.
We also provide specialty services and treatment plans for complex needs that make it possible for you to live your healthy lifestyle. Our team will discuss options with you and develop a personalized treatment plan to provide the highest level of care and results.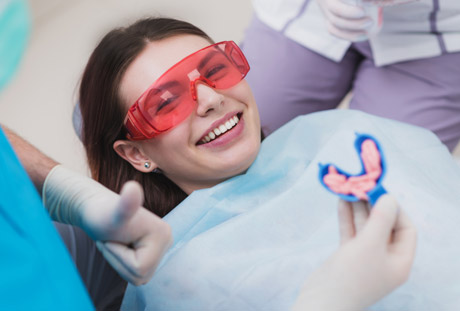 Fillings
Fillings are the restoration of lost tooth structure with metal, porcelain, or resin materials. There are many different types of materials used for fillings. You and your dentist can discuss the options and choose the right tone for you.
Crowns/Caps
A Crown/Cap is the portion of a tooth above the gum line that is covered by enamel. The artificial cap can be made of porcelain, composite, or metal and is cemented on top of the damaged tooth. Porcelain is the most popular choice because it is tooth colored and resembles your natural teeth.
Bridges
Bridges are a stationary (non-removable) dental prosthesis fixed to teeth, adjacent to a space. They are cemented or bonded to supporting teeth or implants to replace one or more missing teeth. These are also called a fixed partial denture.
Root Canal
Endodontics (Root Canal Therapy): Root canal therapy is necessary for general dentistry in Panama when a tooth is infected and will not heal on its own. Symptoms include pain when biting and chewing, sensitivity with hot and cold, and constant aching and discomfort.
Teeth whitening services
As a specialists in general dentistry in Panama also want you to feel confident in your smile, and our in-office and at-home teeth whitening services are a quick and easy way of giving you the bright, beautiful smile you've always wanted.
We have several whitening treatment options that reduce discoloration caused by genetics, antibiotics, and various foods or beverages. For those interested in improving the appearance of their teeth, we offer various options that fit your needs and budget.
What to Expect at Your Appointment?
A comfortable, friendly experience
Knowledgeable team member who can quickly answer your questions
Modern equipment and resources for every need
Request your appointment for general dentistry in Panama:
[contact-form-7 id="1365″]
*Your appointment will be confirmed soon.