Your child should ideally be seen every six months for routine check-ups and cleanings with our specialist in pediatric dentistry in Panama. Regular check-ups help us address any concerns before they become more problematic.
The best preventative care begins at home. Your child's teeth should be brushed twice a day and flossed once a day. Children should be assisted in these tasks until the age of eight. Positive reinforcement and a team effort make all the difference in maintaining a healthy, bright smile.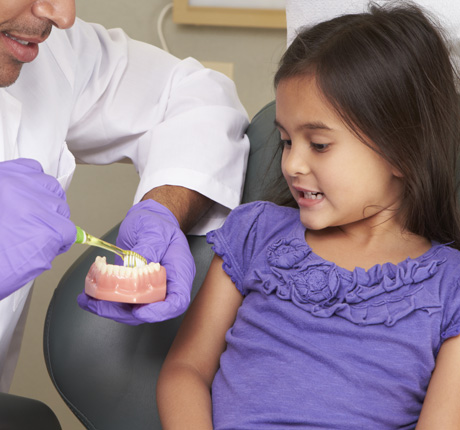 Dental treatment of children
Pediatric dentistry is an area of specialization that focuses on the treatment of children from birth through adolescence with a concentration on growth, development, and behavioral guidance for both healthy and special needs children.
Our specialists in pediatric dentistry in Panama offer a wide range of services to meet the needs of your child, including:
Comprehensive Examinations
Preventative Services
Restorative Procedures
Cosmetic Procedures
Surgical Procedures
Emergency Care
Habit & Athletic Appliances
Interceptive Orthodontics
Recommendations for treatment are explained at a consultation time set aside specifically for you and your child.  The consultation can take place during the initial appointment.  Our goal is to ensure that you receive the best possible information concerning your child's treatment options.  The time we invest in patient education enables us to deliver the best possible outcome for your child's dental treatment.
Exams and Cleanings
Each patient visit begins with a comprehensive oral exam and thorough teeth cleaning. The exam and cleaning both prevent common dental health ailments and give our dentist the opportunity to diagnose other problems that are not always easy to detect.
During the exam, our specialist in pediatric dentistry in Panama look for any and all signs of oral health concerns, from tooth decay to smile misalignment. Just as important to looking for these concerns is educating children on how to better care for their smile's health, which we also do throughout the appointment.
This patient education makes sure your child stays comfortable seeing a dentist and helps them keep their smile healthy between appointments.
Tips for Preventing Tooth Decay
Tooth decay is preventable with regular brushing and flossing.
Children are at a higher risk of tooth decay because they may not be so diligent with their oral hygiene habits. Making sure your child eats a low-sugar diet is another way to reduce the risk of tooth decay.
We may also recommend fluoride treatments twice a year and regular cleanings. Sealants can prevent tooth decay from forming in hard-to-reach areas.
Request your appointment with our specialist in pediatric dentistry in Panama:
[contact-form-7 id="1365″]
*Your appointment will be confirmed if available.