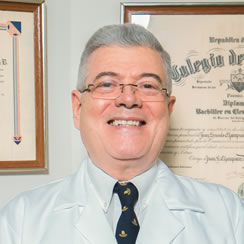 Dental surgeon, Central University of Ecuador, 1967.
Founder of the Champsaur Dental Clinic.
He is a complete and high ethical professional, who enjoys a friendly and close temperament towards his patients and his staff, with which he has achieved the loyalty of his patients for so many years.
He has been a pioneer in the use of state-of-the-art equipment and technology, using sterilization, disinfection and biosecurity systems against infectious-contagious diseases approved by the ADA from the beginning. Similarly, it has acquired digital X-ray equipment, which optimizes the diagnosis and treatment of its patients.
Its safe and reliable performance makes surgical processes less stressful.
Within his general practice, what he enjoys most is the placement of Implants, Complex Third Molar Surgery and Endodontics.
Among his hobbies are Golf, sport fishing and joinery.