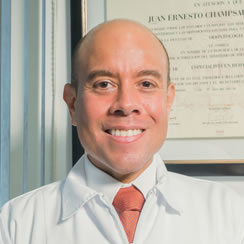 Oral Rehabilitation Specialist
Dentist graduated from the Central University of Ecuador in 1997.
Specialist in Oral Rehabilitation of the Pontificia Universidad Javeriana. Bogota Colombia in 2003.
Member of the Panamanian Odontological Association.
Member of the Panamanian Academy of Prosthesis and Occlusion.
National speaker.
Multiple national and international courses.
Practice focused on Oral Rehabilitation, fixed prosthesis, aesthetics and implantology with 20 years of experience in simple and complex cases.
Expert in digital dentistry, which allows you to plan and perform restorations in very short times and accurately.
Hobbies: MTB mountain biking.
Request your appointment
[contact-form-7 id="1365″]